Performance
As a photography magazine, we are naturally inclined to review any gadget as a photography tool. Aft er all, most of the time, your smartphone is the only camera that follows you virtually everywhere. And in the hands of a good photographer, it can certainly weave magic. The Zenfone Zoom is a specialist when it comes to imaging, and from this angle, is a terrific performer.
To begin with, the main camera focussed fast and accurately. The shutter release button and other controls were quite comfortable to use. Manual options were welcome, except that we yearned for aperture priority mode. The lens did not produce any discernible distortion. Colours were punchy and images sharp. Macro images were a pleasure to capture with fine details picked up very well.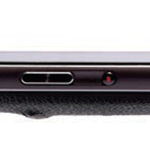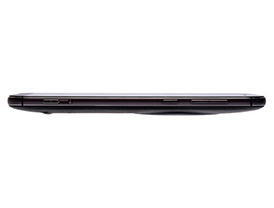 Native print size was 10.4 x 13.87 inches at 300 ppi. At 25 percent, the images were noise-free up to ISO 400, and it became a concern only from ISO 1600. Viewed at 50 percent, the images were practically noise-free up to ISO 400, and were usable up to ISO 800. At 100 percent, all images showed slight noise,but were usable up to ISO 200. We would consider this quite 'decent'. We wish the sensor was slightly larger to suppress noise well. The camera produced colours true to the original. Auto White Balance performed very well under most lighting conditions.
We subjected the Zenfone Zoom to some standard benchmarking using three software. The scores could be best regarded as average. This means that the device is not optimised for extremely high quality and fast gaming, but can hold on in case of most other games. The battery drained rapidly on first charge, but subsequent charge-recharge cycles improved the battery life considerably. AnTuTu battery tester rated the device a notch above Samsung Galaxy S4 and S2, which is reasonably good.
The Zenfone Zoom has got its weaknesses too. For a photography specialist device, it is necessary to have Raw mode, but the Zenfone zoom does not offer this. With 4K capable phones spreading fast in the market, we also expected this device to have 4K video capability. Unfortunately, this is not thecase.
Value for Money
The Zenfone Zoom retails at an MRP of Rs. 37,999. We would expect a realistic price to be around Rs.35,000 after discounts. An ideal price would have been Rs.30,000. |SP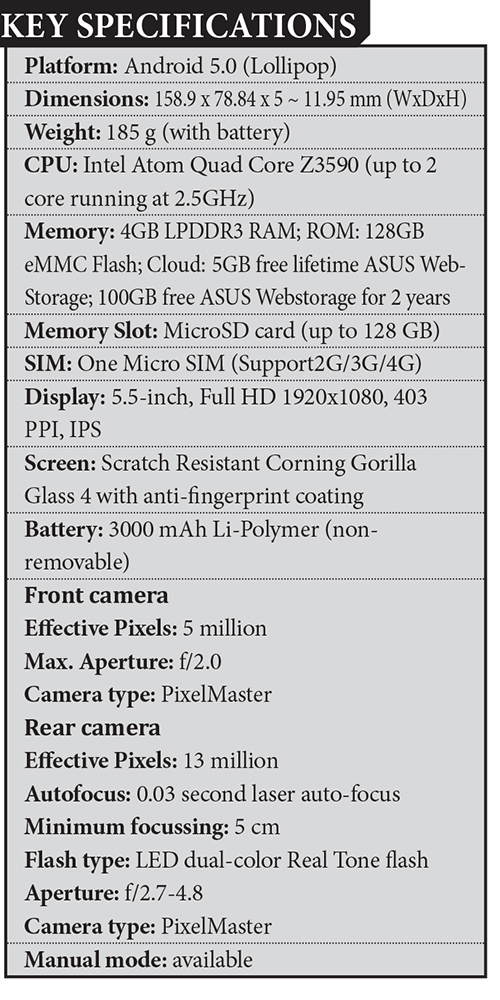 FINAL SCORE                                                                                  80%
Design and Build Quality                                                                17/20
Key Features                                                                                  16/20
Ergonomics                                                                                      17/20
Performance                                                                                15/20
Value for Money                                                                      15/20
PLUS
• Good camera
• Excellent macro
• Premium design
• Large and bright screen
MINUS
• Lacks Raw imaging
• Lacks 4K video capture
• Noise control could have been better
VERDICT
The Zenfone Zoom has many technological firsts to its credits. It has a capable camera and the controls complement the features quite nicely. Raw format and aperture priority mode would have certainly made it a Best Buy, but the absence of both leaves  us slightly disappointed.
Sujith Gopinath