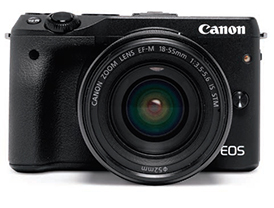 Mirrorless interchangeable lens cameras have changed the face of professional camera market, just like how smart phones brought down demand for digital compact cameras. All manufacturers are trying to squeeze in the largest sensor that they can fit into a compact body and to provide the best video capabilities. Canon EOS M3 is the elder sibling of the M10 we reviewed last month.
Design and Build Quality
We had reviewed the EOS M10 in our February issue and had some hard criticism regarding the design. The EOS M3, being the higher-end model, is certainly different. The exteriors are constructed with a mix of plastic and metal. The M3 is meatier than the M10, and has a protruding wide and deep grip with a textured rubber finish. Even the thumb rest at the back has a nice rubber finish. The camera has a metal lens mount and tripod receptacle. The built-in flash does expose the connecting cable and so does the LCD screen. Though the LCD has an additional downward tilt possible compared to the M10, we prefer the M10's screen which does not expose any cable.
Key Features
The 24.2 megapixel Canon EOS M3 uses an APS-C Type (22.3 x 14.9mm) CMOS sensor, which features Auto and Manual cleaning features along with Dust Delete Data appending. The camera features a DIGIC 6 image processing engine. The camera accepts all EF-M series lenses. In addition to these, you can mount EF lenses with an EF-EOS M adapter. The camera features the new Hybrid CMOS AF III autofocus system, which provides options of 1-point and face + tracking priority AF. The M3 has 49 focus points in total and the camera can focus within a range of EV 2 to 18. You can set the AF operation to One-Shot or Servo. Focus modes available are AF, MF, and AF+MF. The camera also provides the Touch shutter feature. Continuous AF is available.
Metering modes include Evaluative, Partial, Spot, and Centre-weighted average. The camera can meter a scene within EV 1 to 20. Shooting modes available are Program (P), Shutter priority (Tv), Aperture priority (Av), Manual (M), Custom (C), Scene intelligent Auto, Hybrid Auto, Creative Assist, Scene, HDR, and Movie Auto Exposure. Equivalent sensitivity ranges from ISO 100 to 12800 equivalent, expandable up to ISO 25,600 equivalent. Exposure can be compensated up to +/-3 stops in 1/3-stop increments. Auto exposure bracketing can be set for +/-2 stops in 1/3-stop increments. The M3 features an electronically-controlled focal plane shutter, providing Shutter speeds from 30 to 1/4000 seconds along with Bulb. The X-sync speed is 1/200 sec.
Still images are recorded in JPEG or Raw format (14-bit) with an option to record both simultaneously, with maximum dimensions of 6000 x 4000 pixels. Videos are captured in MP4 format (MPEG-4 AVC/H.264 video with MPEG-4 AAC-LC audio) with the highest quality of 1920 x 1080 (Full HD) 30p / 25p / 24p. The M3 features a retracting, manual popup flash with Guide Number of 5m at ISO 100. The flash covers a field of view equivalent to an 18mm lens (29mm in 35mm format). The flash recycles in approximately 3 sec. The camera features a standard accessory shoe (hot-shoe), which accepts an external EX-series Speedlite. Flash metering is through E-TTL II auto flash method. Flash exposure can be compensated up to +/-2 stops in 1/3- stop increments.
The EOS M3 includes Single and Continuous drive modes. Self-timer can be set to Off, 2-second, 10-second, or remote control. The camera can capture still images at a maximum continuous speed of approximately 4.2 frames per second. The M3 can shoot a maximum of 1000 JPEG Large / Fine, 5 Raw, or 4 Raw + JPEG images in a burst.
The EOS M3 offers Picture Styles such as Auto, Standard, Portrait, Landscape, Neutral, Faithful, Monochrome, and User Defined (3 settings). White Balance Auto, Daylight, Shade, Cloudy, Tungsten light, White fluorescent light, Flash, and Custom. The camera features tools to correct lens aberrations such as peripheral illumination and chromatic aberration. The camera has a built-in stereo microphone for recording sound, along with an external stereo microphone terminal for professional quality recording using an external microphone. The M3 uses a 3.0- inch, approximately 1.04 million-dot TFT tilt-and swivel colour LCD with capacitive touch screen. The M3 uses an SD/SDHC/SDXC memory card for storage. The camera features HDMI Mini out terminal and built-in Wi-Fi. The M3 is powered by one LP-E17 battery pack. The camera measures 110.9 x 68.0 x 44.4mm (W x H x D) and weighs 366g with battery and card.
Ergonomics
The Canon EOS M3 has a very comfortable grip and is a pleasure to hold and operate. The shutter release button-main command dial unit is mounted at an almost 45-degree angle, which makes it very easy to operate. The buttons and other controls are spaced well and are comfortable to operate. Images in the EVF are crisp and clear, and the menu is quite intuitive. The Video and Playback buttons are close to the thumb rest, and this saves some space on the mail control panel.
The M3 is meatier than the M10, and has a
protruding wide and deep grip with a textured
rubber finish. Even the thumb rest has a nice
rubber finish