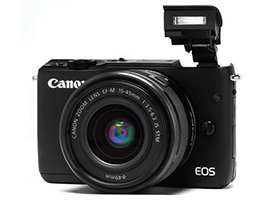 Ever since the first mirrorless cameras were introduced into the market by Olympus and Panasonic, the category kept growing, and never ceased to impress with faster processing and superior videos. Though traditional D-SLR manufacturers initially resisted the change quite vocally, eventually even they had to fall in place. While Nikon accepted a small 'modified 1-inch Type' format, Canon stuck to APS-C format, yet effectively reduced the overall size and weight of cameras. The EOS M10 was announced recently along with an elder sibling M3.
Design and Build Quality
The Canon EOS M10 looks and feels like a premium compact rather than an interchangeable lens camera. The exteriors are crafted in engineering plastic, and feel quite sturdy. The exteriors have a matte finish. The tiny built-in flash springs out violently on pressing the flash release button. The flash is mounted on a plastic hinge, and this leaves us a little worried. The flash exposes the connecting cable, and we feel that manufacturers need to come up with a better solution that hides these connectors. The camera has a metal lens mount and tripod receptacle.
Key Features
The EOS M10 is an 18-megapixel mirrorless interchangeable lens camera from the Canon stables and it uses an APS-C size (14.8 x 22.2mm) CMOS sensor supporting Hybrid CMOS Autofocus II. The sensor uses a selfcleaning mechanism using ultrasonic dust reduction system.
Still images are recorded with a resolution of 5184 x 3456 pixels in JPEG or Raw (14 bit) format along with the option to record both simultaneously, while videos are recorded in MP4 or MPEG-4 AVC/ H.264 standard with the highest quality of 1920 x 1080 (Full HD) at 29.97 or 23.98 fps. The camera uses Hybrid CMOS AF II method for autofocus, with options of 1-point and Face+Tracking priority. The system requires 1 to 18 EV of brightness to AF. You can choose between One-Shot and Servo AF. The M10 features a total of 49 autofocus points.
Sensitivity ranges from ISO 100 to 12800, expandable up to 25600. Noise reduction is available for long exposure and high ISO. The camera uses an electronically controlled focal-plane shutter providing a shutter speed range of 30 to 1/4000 sec. The shutter can synchronise with flash up to 1/200 sec. Drive modes include single and continuous modes, and the camera can shoot continuously at up to 4.6 frames per second.
In Live View mode, the camera provides focussing options such as AF, MF, and AF+MF. Continuous AF is available along with Touch shutter. The M10 offers still image capture during video recording. The built-in stereo microphone provides options of recording level, wind filter and attenuator. The camera uses its imaging sensor for real-time metering. The metering modes available are Evaluative, Partial, Spot, and Centreweighted. Metering requires an illumination of 1 to 20 EV. Exposure can be compensated up to +/-3EV in 1/3-stop increments. Shooting modes available are Program (P), Shutterpriority (Tv), Aperture-priority (Av), and Manual (M).
The EOS M10 provides White Balance options of Auto, Daylight, Shade, Cloudy, Tungsten light, White fluorescent light, Flash, and Custom. The camera features Auto Lighting Optimiser and Highlight tone priority. The camera offers lens aberration correction for peripheral illumination and chromatic aberration.
The EOS M10 has a manual pop-up type built-in flash with Guide Number of approximately 5m at ISO 100. It has an angle of coverage equivalent to that of approximately 15mm in the 35mm format. The flash recycles in approximately three seconds with a fully charged battery pack. Flash metering is done through E-TTL II autoflash. The M10 uses a tiltable (up to 180 degrees upwards) 3.0-inch, approx. 1.04 million-dot TFT colour LCD. The camera features a USB Terminal along with a Type C Video Out Terminal. Additionally, the camera offers built-in WiFi with WEP, TKIP, and AES security features. Aperture: f/6.3 Shutter Speed: 1/160sec ISO: 800
The EOS M10 is powered by an LPE12 rechargeable battery pack. The camera measures approximately 108.0 x 66.6 x 35.0mm and weighs 301g including battery pack and memory card.
Ergonomics
The EOS M10 is quite small for an interchangeable lens camera. The camera does not have a well-defined hand grip, and the surface is quite slippery. We feel that Canon, in their eagerness to keep the size small, has compromised on user comfort. A switch on top of the camera lets you toggle between Video, Still, and Auto modes, but it is too tiny for comfort. Generally, the buttons are too small, and there are no customisable function buttons.