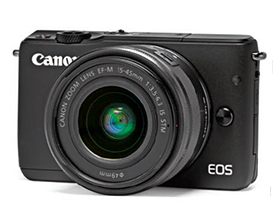 Performance
We received the EOS M10 along with the 15-45mm f/3.5-6.3 STM kit lens. As usual, we tested the lens
The M10 looks and feels like a premium compact rather than an interchangeable lens camera. The exteriors are crafted in engineering plastic, and feel quite sturdy.
with the lens correction feature (distortion control and peripheral illumination correction) turned on to see the how the body controls these. The combination controlled chromatic aberration well, and we were unable to spot any. Flare was observed at the wide-angle end with the lens wide-open in strong against-the light images. The lens exhibited barrel distortion from 15 to 18mm (marked focal length). Pin cushion distortion was observed from 24 to 35mm, and again, barrel distortion at 45mm.
The images were sharp overall. At 15mm, the sweet spot was f/5.6, which progressively changed to f/8 at 45mm. At 15mm, f/3.5 to f/8 provided acceptably sharp images, while at 24mm, this range was f/4.5 to 11, which became f/6.3 to 11 at 45mm. All metering modes performed as expected. The monitor displayed images with good contrast and sharpness. We observed prominent darkening of corners from f/3.5 to 4.0 even with the peripheral illumination correction switched on.
The combination was slow to autofocus, and there was a noticeable lag in changing the frame once the system latched on to the subject. Auto White Balance produced slight red cast throughout, which was easily removable in post-processing. Native print size was 11.52 x 17.28 inches at 300 ppi. At 25 percent of screen size, images were noisefree up to ISO 800. Slight noise was observed at ISO 1600, but overall, the images were quite usable up to ISO 12,800. Enlarged to 50 percent, the images were absolutely free of noise up to ISO 400. Slight noise showed up at ISO 800, but the images were usable up to ISO 3200. ISO 6400 and 12,800 turned out very noisy. Viewed at 100 percent, images remained noise-free up to ISO 200. Slight noise appeared at ISO 400, and the images could be used till ISO 800. Video recording suffered from the slow autofocus and motion lag, but the footage appeared sharp throughout.
Value for Money
The Canon EOS M10 retails at an MRP of Rs.39,995. This seems just about right for this camera. |SP

FINAL SCORE                                                           80%
Design and Build Quality                                         17/20
Key Features                                                            17/20
Ergonomics                                                               16/20
Performance
Autofocus                                                                    3/5
Metering                                                                    4/5
Noise Control                                                          4.5/5
Sharpness                                                                   4/5
LCD/EVF                                                                    4/5
Auto WB                                                                   3.5/5
Sub-Total                                                          23/30
Value for Money                                               7/10
PLUS
• Small and lightweight
• APS-C format
• Sharp images
• Good noise control
MINUS
• Slow Autofocus
• Disappointing lens correction system
• Slippery body
VERDICT
If you strictly go by the performance of the EOS M10, you might be able to point out a few flaws here and there, especially in the autofocus speed and handling. But if you do not require a quick-reaction camera, but need a small APS-C format mirrorless camera, the EOS M10 would be a great choice.
Sujith Gopinath