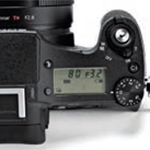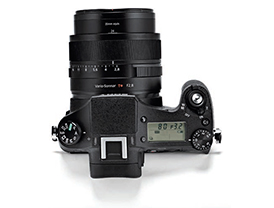 Ergonomics
The RX10 II is quite comfortable to hold and operate. It offers excellent grip and balances well in your hand. The controls are easily accessible and quite intuitive. Images in the LCD appeared crisp. The electronic viewfinder offers excellent view and is as crisp and clear as an optical viewfinder. The camera has a threaded shutter release button, similar to old film SLRs, which allows you to use a threaded cable release or a soft release. In addition to the zoom lever, the camera has a zoom ring on the lens barrel, which allows you to precisely control the zoom. The 35mm focal lengths are marked on the lens barrel at 24, 35, 50, 70, 100, 135, and 200mm.
Performance
The RX10 II proved its mettle on our test bench. Autofocus was fast and precise and the system could lock on to the subject even in low light. The camera surprised us when we failed to see any trace of darkening of corners even at the wide-angle end with the lens wide open. Further, the lens did not produce any flare or chromatic aberration. This is exemplary performance in compact camera standards. All metering modes performed very well. Images were sharp from f/2.8 to 5.6 throughout the zoom range. Sweet spot changed from f/2.8 to f/4 from the wide-angle to the telephoto end. We observed that Sony has paid particular attention to sharpness at the telephoto end, which is normally the weak point in high zoom compacts.
Native print size is 12.16 x 18.24 inches at 300 ppi. At 25 percent screen size, the images were noise-free up to ISO 1600. A tinge of noise was observed at ISO 3200 and 6400. ISO 12,800 was very noisy. Viewed at 50 percent, the images remained noise-free up to ISO 800. Slight noise was seen at ISO 1600. Enlarged to 100 percent, images were practically free of noise up to ISO 200. The images were perfectly usable up to ISO 800. Auto White Balance performed well, and the colours were true to the original. Slight casts observed under certain light sources were easy to remove in post-processing. We observed slight barrel distortion up to 70mm equivalent focal length, but barely noticeable.
The RX10 II is believed to produce excellent videos. But we were unable to test the full capabilities of 4K videos without an SDXC Class 10 memory card.
Value for Money
The Sony RX10 II retails at an MRP of Rs.94,990. Though the price would seem too high for a compact camera, this looks quite reasonable, considering the performance and the advanced features that this camera incorporates. |SP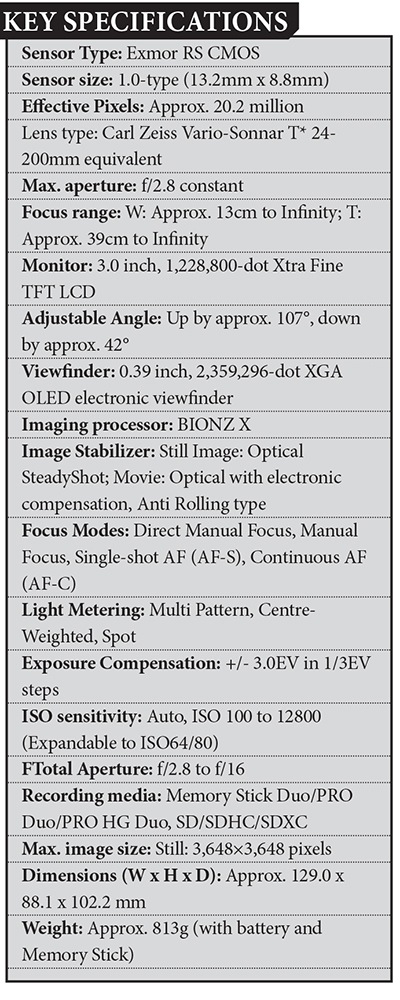 FINAL SCORE                                                          86%
Design and Build Quality                                       14/15
Key Features                                                           14/15
Ergonomics                                                              13/15
Performance
Autofocus                                                                      4/5
Metering                                                                      3.5/5
Noise Control                                                               3.5/5
Sharpness                                                                        4/5
Darkening of corners                                                     5/5
Flare and CA                                                                   5/5
Distortion                                                                     4.5/5
LCD/EVF                                                                    4.5/5
Auto WB                                                                         4/5
Sub-Total                                                              38/45
Value for Money                                                    7/10
PLUS
• Excellent build quality
• Weather sealing
• Magnesium alloy chassis
• Constant f/2.8 aperture
• Superlative performance
• 4K video capture
• High-speed imaging
MINUS
• Price beyond most people's reach
VERDICT
The Sony RX10 II can be called a 'serious all-rounder', capable of delivering excellent image quality throughout the zoom range. The constant f/2.8 and 4K video capability should make it an excellent camera for most of your needs. Certainly a Best Buy.
Sujith Gopinath