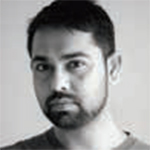 Sudarshan Mondal loves making images and the creative process it involves. He photographs mundane things, people on streets, landscapes, nature, and travel; both in color and black & white. Born and brought up in a village in West Bengal, Sudarshan studied electrical engineering, and now works in a multinational software firm. He has been fortunate enough to spend a good extent of time on his personal photo projects, travelling, and collaborating with fellow photographers since 2010. He has worked and lived in London, Dallas, and New York City, and currently resides in Kolkata. Spending time in different cities across the globe gave him an opportunity to get acquainted with people of varied cultures and nationalities. Through his photographic endeavor, he tries to establish a sense of time, look at the world in a different perspective, and sometimes depicts his own state of mind. His quest for new experience compelled him to continually evolve his thought process, while remembering the importance of carrying a camera with humor, compassion and curiosity. To view more of his work kindly visit his website www.sudarshanmondal.com
As told to Unnati Sagar
How, why and when did you decide to take up photography professionally, in spite of having an established career as an engineer?
First of all I must say that I am very grateful to the Smart Photography team for giving me an opportunity to showcase my work in your esteemed magazine. I started pursuing photography seriously around 6 years back when I got my D-SLR. Since then, I have been devoted to photography. Initially, I didn't have a plan. But now, at this stage, I have been focussing on long term photography projects, mostly personal in nature. Although, I haven't yet decided to give away my job as a software consultant, I do hope to completely immerse into photography as a career and work on full time basis. As of now, I have been managing to work and photograph intermittently.
What are your personal favourite genres of photography? And how different are the themes of your personal projects from the commercial projects?
If you see my whole portfolio (at www. sudarshanmondal.com), you will have a clear picture that I am a cross genre photographer. And I am more or less comfortable with 16 mm to 200 mm focal range. I shoot nature, landscape as well as people. But, if I need to choose one particular genre, I would say it is People Photography, taking portraits of people from different social background. I enjoy the entire process of taking an image of a person. I love listening to their stories, the situations they go through, and try to understand the person as a whole, try to assess their personality and make a serious effort to put that in my photograph. As these days most us have a camera in our hands; be it a D-SLR, a mirrorless or even a mobile phone camera, it challenges us to create more compelling and innovative work of art. I choose and work on photographic subjects which I enjoy, love and which comes directly from within me. I normally do not care much about the acceptability of my work, but I do try to keep it fresh, refreshing, fit for the photographic media. My personal work, to some extent, depicts a totality of me in some way or the other and I work on it with a conscious effort. But for commercial photography for some other organization or people, I give more emphasis on the requirement and need of the job and the client's expectations.
How important is it for the photographers today to master the art of colour management and post processing of images?
I have been completely involved into digital photography since the beginning and I have always preferred to shoot in RAW file format. Post processing is an essential part of digital photography workflow. It starts from renaming the camera image files, putting those in a folder with correct nomenclature, key-wording an image file, geo-tagging and adding mandatory metadata like creator name and signature information. And finally based on the  motive and intention of the image, we need to process the RAW file to make it a final one. In my current workflow, 90% of the photo files manageme nt and post processing is done using Adobe Lightroom and the rest with Photoshop. As a serious photography practitioner, I do believe that the knowledge of basic colour management is very important. Before going ahead, we need to make sure that the monitor we are working on is a calibrated one. I have always worked on a calibrated monitor. If I am not sure what the true colours are, how can I evaluate the colours while doing my post processing adjustments? Also, the printer colour output and monitor colour have to be in sync, so that what you see on the monitor appears exactly in the final print. Brilliant post processing gives life to a photograph. The right white balance, contrast, brightness, sharpness and colour saturation are vital aspects in a professional grade image. However, it is worth mentioning that content of the image is far more important than anything else. Content comes first and the rest follows. By content, I mean the inherent meaning of a photograph, the purpose and the intention behind the image. If the content is weak and does not convey much to the viewers, but you have all brilliant post processing techniques applied to it, it still remains to be a mediocre image. So, once you have the right content, based on the intention of the image and the message or the expression you want to convey, you can process the image accordingly. Understanding the whole process ofit is an integral part of learning digital photography.