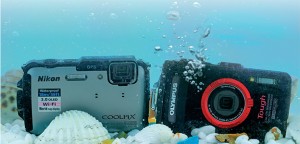 The word 'Tough' usually brings to our minds images of virtually indestructible armoured vehicles rolling through rough terrain. But for a compact camera, 'tough' implies that the camera is 'reasonably' water-proof, shock-proof, dust-proof, freeze proof, and crush proof up to a certain limit. These cameras can withstand a fair deal of rough handling compared to regular compacts. Do note however, that these cameras are not meant to be dropped from an aircraft nor be taken for deep diving expeditions. Though there are quite a few tough compacts available internationally, most of them have not been released in India. So we are left with only two models, the Nikon Coolpix AW110 and the Olympus Stylus TG-2 (also known as the Tough TG-2).
The key features are given in the table below.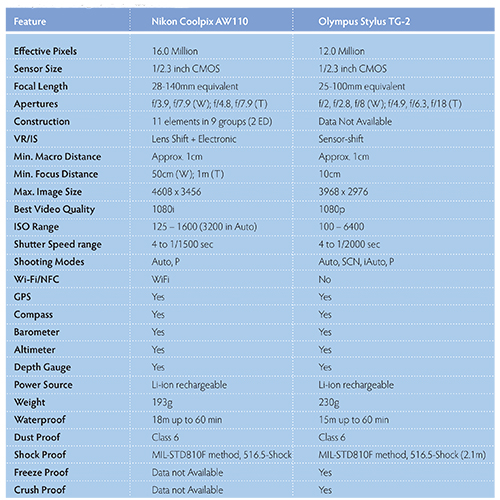 Design and Build Quality
Both the Nikon and the Olympus are built with a combination of metal and polycarbonate. Both feature good
quality weather-sealing along with door locks to prevent accidental opening. In terms of design, the AW110 looks aged, while the TG-2 looks trendy. The Olympus also features a much better grip (with a rubber lining) compared to the AW110 with a flat surface and no real grip. Both feature plastic tripod receptacles.
Key Features
Both the Nikon AW110 and the TG-2 have impressive specifications with respect to 'toughness', whereas in most features, they are more or less alike. While the Nikon packs 16 megapixels, the Olympus is a 12 megapixel model. The TG-2 alllows you to change the aperture, though in a limited manner.
Ergonomics
Both the cameras were easy to use, but the TG-2 features a protruding, rubber-lined grip, which makes it more comfortable, compared to the slippery body of the AW110. We found the TG-2's buttons to be better spaced and easier to operate than the AW110's. Again, images appeared crisp and richer in clolours on the
Olympus LCD. The TG-2 also has a mode dial, which makes it easier to switch between various modes.