Performance
Both the cameras produced sharp images out-ofthe- box. Metering of both cameras was flawless.
Autofocus: The TG-2 was a clear winner in auto focus with respect to both speed and low-light performance. The AW110 took a fraction of sa second more to focus under low light.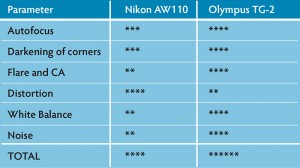 Darkening of corners: The Olympus controlled darkening of corners very well, even at the widest aperture. Slight darkening was visible, but was confined to one corner. But the Nikon produced prominent darkening even while the lens was stopped down (automatically set by the camera).
Flare and Chromatic Aberration: Both the cameras produced flare, but the AW110 produced stronger flare along with purple fringing. In the case of the TG-2, the chromatic aberration was minimal.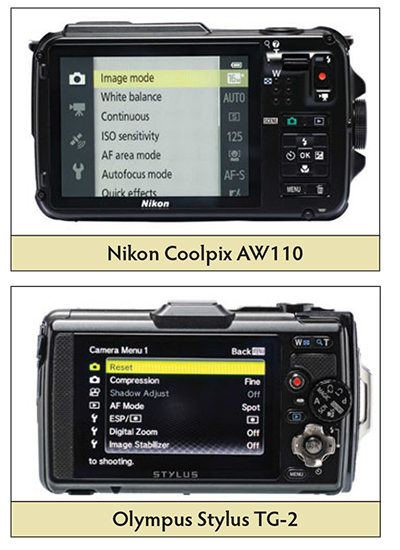 Distortion: Here the Nikon AW110 was clearly ahead, producing distortion-free images throughout the zoom range. The TG-2 produced slight moustache distortion at the wide-angle end.
White Balance: Both the cameras produced colour casts under artificial light. But the TG-2 reproduced colours more accurately under a wider range of light sources than the AW110.
Noise: The Nikon produced images with a maximum size of 11.52 x 15.36 inches at 300 ppi, while the Olympus produced 9.92 x 13.23-inch images at the same pixel density. The Nikon AW110 could be used up to ISO 800 at lower enlargements, while the Olympus TG-2 could be used up to ISO 3200. The images from the TG-2 appeared to have more detail compared to the AW110.
Value for Money
The Nikon AW110 retails at an MRP of Rs.16,950, while the Olympus TG-2 carries a price tag of Rs.22,990. Since value for money is essentially price-to-performance ratio, we would consider both equal in terms of the value they carry, considering the superior performance of the TG-2 delivered at a higher price.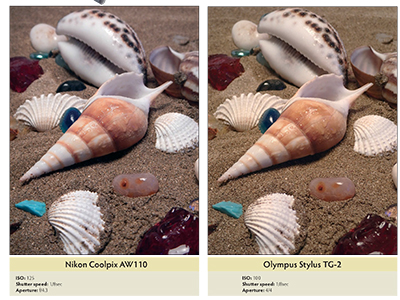 Our Verdict
The Nikon AW110 and the Olympus TG-2 do a perfect balancing act when it comes to the key features. But the TG-2 is formidable when you consider the overall performance of the camera. Having said that, the Olympus is expensive by about Rs.6000. So if you are tight on a budget, choose the Nikon AW110, which will provide more 'decent' image quality. But if you need a real performer that is rugged too, then choose the Olympus TG-2.
Sujith Gopinath