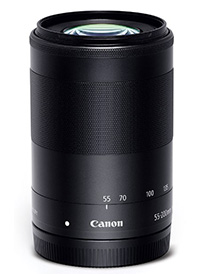 If you are a frequent air traveller, you will understand the hassles of carrying a heavy and bulky kit on board. Mirrorless compacts offer a perfect solution to this problem, if you can compromise a little on resolution and low-light performance. For an amateur photographer, the first piece of lens will be the standard kit lens, mostly an 18-55mm in case of APS-C cameras. A cost-effective telephoto option would be a 55-200mm. Canon recently introduced the EF-M 55- 200mm f/4.5-6.3 IS STM, a perfect companion for your travel kit.
Design and Build Quality
The EF-M 55-200mm lens is compact and lightweight, similar to other lenses in the series. The lens has a plastic mount. Although a metal mount is not necessary for such a light lens, it is still desirable to minimise wear likely to happen with repeated mounting and dismounting. The lens has markings at 55, 70, 100, 135 and 200mm focal lengths. It has a broad zoom ring and a narrow focus ring. The 55-250mm protrudes during zooming, but not while focussing.
Key Features
The new EF-M55-200mm f/4.5-6.3 IS STM lens completes the EOS M lens line-up as the longest telephoto zoom, and is able to take photos of faraway subjects while still maintaining the identity of the EF-M range by being compact and portable.
The EF-M 55–200mm provides an equivalent focal length of 88 to 320mm. The lens provides optical image stabilisation believed to provide a 3.5- widestop advantage along with a stepper motor (STM) that makes focussing fast, smooth and quiet. STM lenses are specially designed to suppress autofocus noise so that it does not get recorded in videos.
The lens is constructed with 17 elements in 11 groups including one aspheric and one UD lens element. The special elements helps to reduce chromatic aberration. The 55-200mm offers full-time manual focus in AF+MF  mode and focusses as close as 1 metre. The lens has a 7-bladed circular aperture. Aperture ranges from f/4.5 to 22 at 55mm and f/6.3 to 32 at 200mm.
The lens accepts filters of 52mm diameter. It has dimensions of 60.9 x 86.5mm (max. diameter x length) and weighs approximately 260g.