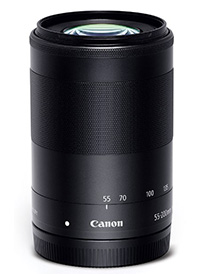 Ergonomics
The 55-200mm lens is quite comfortable to carry and operate. It balanced well with the EOS M5 body that Canon provided for the test. The textured zoom and focus rings are made of plastic, but they provide good grip. Both the rings have the right amount of damping, making them easy to use.
Performance
We tested the lens on a Canon EOS M5 body. The body was set up to correct Peripheral Illumination, Chromatic Aberration and Diffraction since these features are available on all the latest M-series camera bodies and we expect people to make use of these. Autofocus was fast and precise and the system latched on to the subject even in low light. We did not observe any darkening of corners in the lens even at the wide angle end at any aperture. The lens produced pincushion distortion from 100mm (160mm equivalent) onwards. The 55-200mm lens produced mild flare and ghosting at f/4.5 along with prominent purple fringing. Purple fringing decreased on stopping down the lens and vanished around f/8, but flare and ghosting persisted.
The lens produced sharp images out of the box. At 55mm, images were sharp at all apertures except at f/22, which is quite predictable. However, corner sharpness was best at f/16, followed by f/22. At 100mm, images were sharp from f/5.6 to 16. f/8 was the sweet spot. As usual, corner sharpness was best at f/16. At 200mm, sweet spot shifted to f/16 even when you consider corner sharpness.
Value for Money
The 55-200mm STM lens retails at an MRP of Rs.24,995. This seems to be quite competitive for this lens. |SP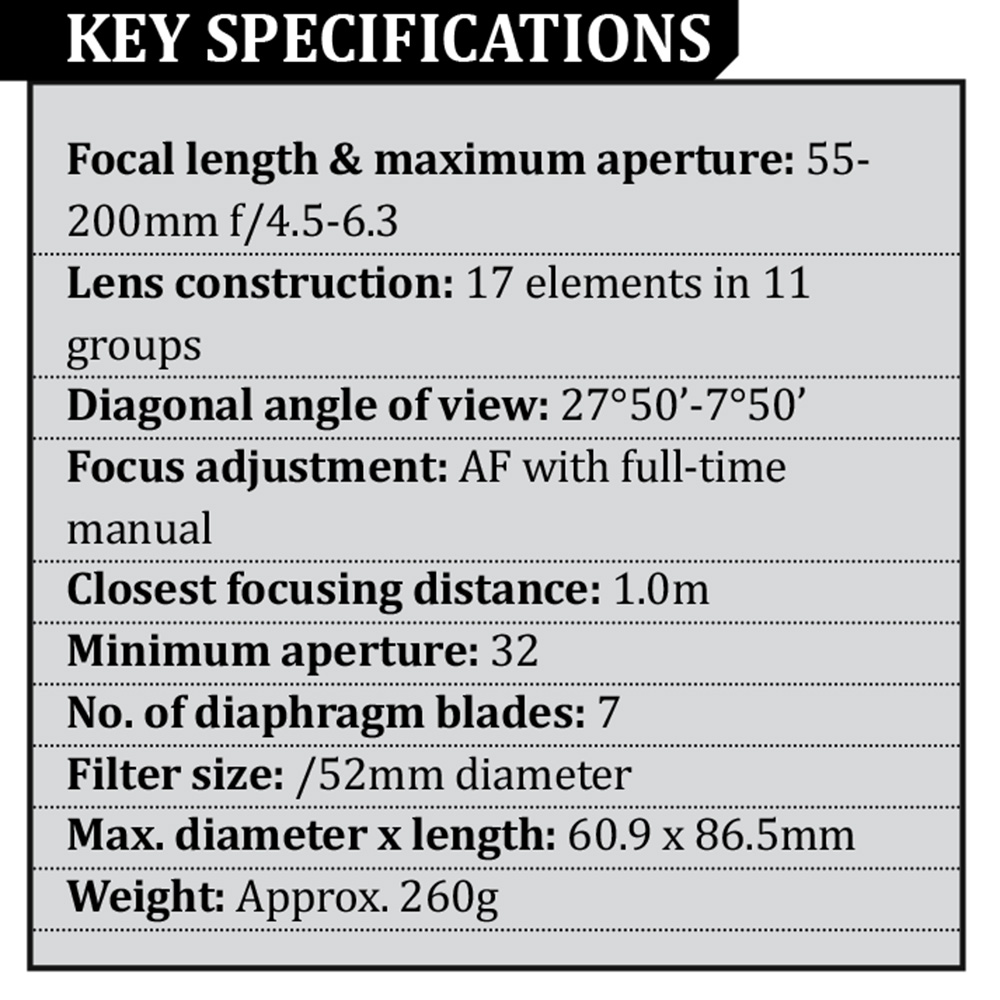 FINAL SCORE                                                   82%
Design and Build Quality                        16/20
Key Features                                                16/20
Ergonomics                                                18/20
Performance
Autofocus                                                             4/5
Sharpness                                                          3.5/5
Distortion control                                              4/5
Aberrations                                                         4/5
Darkening of corners                                    4.5/5
Extra features                                                   5/5
Sub-Total                                               25/30
Value for Money                                   7/10
PLUS
• Compact and lightweight
• Easy to use
• Fast autofocus
• Good optical performance
MINUS
• Sharpness could have been better
VERDICT
The Canon EF-M 55-200mm performed well, even though the lens is an amateur model. This compact and lightweight lens will surely be a great addition to your kit if you are not looking for a high-end prime or a fixed
aperture zoom.
Sujith Gopinath