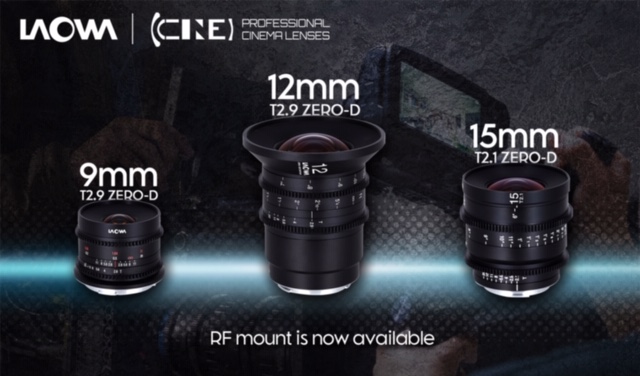 Venus Optics has recently added the Canon RF mount option to 3 of their new ultra-wide cinema lenses. They are the Laowa 9 mm T2.9 Zero-D, Laowa 15 mm T2.1 Zero-D Cine Lens and Laowa 12 mm T2.9 Zero-D. All three lenses feature the same optical system as the rest of the mounts and with the same close-to-zero distortion (Zero-D) design.
The 9 mm features an approximate 113° FoV on Super35 sensors while the 15 mm and the 12 mm feature a 110° and 122° FoV respectively, on cameras with full frame sensors. All three lenses sport a compact and lightweight design, with the 9 mm weighing 226 g, the 15 mm weighing 540 g and the 12 mm weighing 675 g. As for the focussing distance, the 9 mm can focus as close as 12 cm, the 12 mm up to 18 cm and the 15 mm up to 15 cm. The lens housing has been designed with details while the aperture and focus rings have been built with industry standard 0.8 mod pitch gears, for pairing up with follow-focus motors. Additionally, the entire lens body is made by premium grade aluminium and build for usage in extreme environment.
All three cine lenses are currently available for purchase on the Venus Optics official website and authorised resellers at a price of USD 599 for the 9 mm, USD 1,199 for the 15 mm and USD 1,499 for the 12 mm.