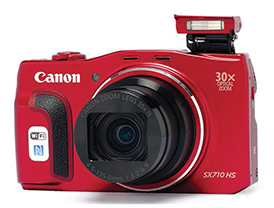 Canon PowerShot series consist of userfriendly compact cameras capable of delivering great results. The 710 HS joins the bandwagon with 20.3 megapixels and 30x zoom.
Compact camera market has been severely affected by the ingress of smartphones into the imaging space. With the situation skewed towards mobile imaging, manufacturers need to push for innovations to survive this onslaught. We see many manufacturers offering high zoom factor and faster lenses to delay the downfall of compacts. The Canon PowerShot SX710 HS is the 20.3 megapixel version of the 16.1-megapixel 700 HS.
Design and Build Quality
The PowerShot 710 HS is beautifully craft ed. In fact, it carries the same design as the 700 HS. The outer shell is a combination of metal and plastic. The lens has a three-segment construction. The LCD is raised and thus prone to scratches if you put the camera on the desk with the LCD facing down, though the mode dial prevents full contact with the surface. The camera has a metal tripod mount.
Key Features
Packing 20.3 megapixels, the SX710 HS uses a 1/2.3-inch Type (6.16 x 4.62 mm) CMOS sensor for image capture. This sensor is assisted by a DIGIC 6 processor. The camera features a 25 to 750 mm equivalent lens, providing apertures from f/3.2 to 8.0 at the wide-angle end and f/6.9 – 8.0 at the telephoto end. In normal shooting, the lens focusses from 1cm to infinity at the wide-angle end and 1.4m to infinity at the telephoto end, whereas in Macro mode, it focusses as close as 1 cm at the wide-angle end. The lens features Optical Image Stabilisation. Focus modes available are Continuous AF, Servo AF, and Manual Focus. AF frame can be set to Face AiAF, Tracking AF, or Centre.
The 710 HS uses the usual three metering modes — Evaluative, Centre-weighted average, and Spot. ISO sensitivity can be set from ISO 80 to 1600, along with an Auto ISO option. Shutter speeds range from 15 to 1/3200sec. Shooting modes available are M (Manual), Av (Aperture priority), Tv (Shutter priority), P (Program), Live View Control, Hybrid Auto, Auto, Creative Shot, Sports, SCN (Scene), Creative Filters, and Movie. Scene modes include Portrait, Smart Shutter, Handheld NightScene, Low Light, Snow, and Fireworks. Creative filters provide options of Fish-eye Effect, Miniature Effect, Toy Camera Effect, Soft Focus, Monochrome, Super Vivid, and Poster Effect. Movie modes are Standard, Short Clip, and iFrame Movie. The Smart shutter modes include Smile self-timer, Wink self-timer, and Face self-timer. Still images are recorded in JPEG format with maximum dimensions of 5148 x 3888 pixels. Videos are recorded with the best quality of 1920 x 1080 (Full HD) 60p, and you can record the clip for a maximum duration of approximately 45minutes. The camera can shoot continuously at approximately 6.0 frames per second at maximum resolution.
The 710 HS uses a 3.0-inch, approx. 922,000 dots LCD monitor. The builtin fl ash has a range of 50cm to 3.5m at the wide-angle end and 1.4 to 2.0m at the telephoto end. Flash modes available are Auto, On, Slow Synchro, and Off . The camera accepts an SD/ SDHC/SDXC card for storage, and features built-in Wi-Fi and NFC. The 710 is powered by an NB-6LH rechargeable Li-ion battery pack. The camera measures 112.7 x 65.8 x 34.8mm and weighs 269g including battery and memory card.
Both Auto as well as Preset White Balance Modes worked very well, delivering consistent and desirable results