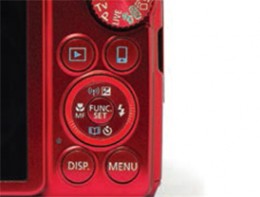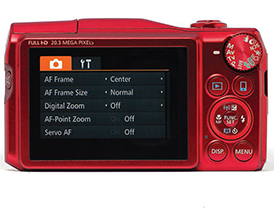 Ergonomics
The Canon 710HS is lightweight and easy to use with the simple and familiar Canon interface. The buttons are large and easily accessible. The vertically mounted mode dial can be rotated with the thumb. The camera has a protruding grip with a rubber lining that enhances the hold. The LCD appeared bright and the displayed images cris
Performance
The 710 HS delighted us with its performance. Autofocus was fast and it locked on to most subjects even in reasonably low light. We did not observe any darkening of corners at the wide-angle end even with the lens wide open. The lens produced heavy fl are and ghosting along with some purple fringing. Out-of-the-box images appeared reasonably sharp. We saw slight drop in contrast in most images. The lens produced slight barrel distortion up to approximately 80mm equivalent focal length. Videos were smooth. AF cannot be used with videos and hence the sound is not recorded.
The camera reproduced colours true to the original. Both Auto as well as Preset White Balance Modes worked very well, delivering consistent and desirable results. Native print size was 17.28 x 12.96 inches at 300 ppi. At 25 percent of the screen size, images were absolutely noise-free up to ISO 1600. Viewed at 50 percent, the images remained free of noise up to ISO 800. We observed a tinge of noise at ISO 1600. All images were perfectly usable even for professional quality work. At 100 percent view, the images remained practically noise-free up to ISO100, and were usable up to ISO 800. This is very good noise control for a compact camera.
Value for Money
The Canon SX710 HS retails at an MRP of Rs.23,995. This is slightly high for a compact camera, but you can expect some good discount from the dealers. |SP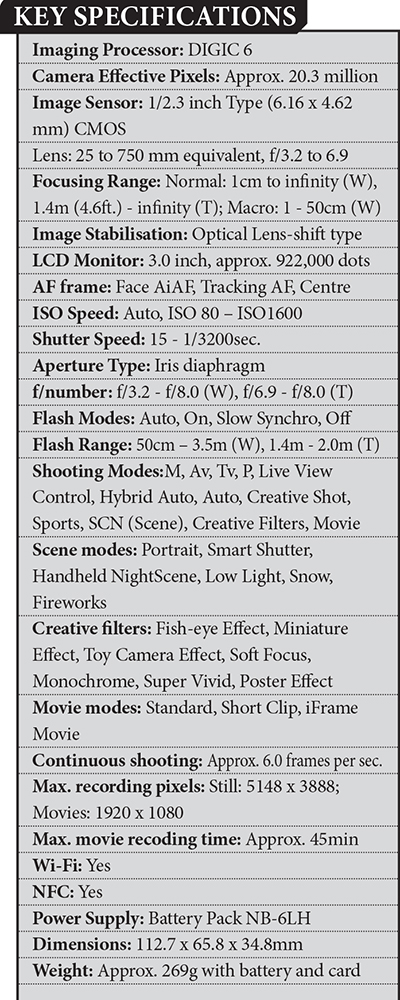 FINAL SCORE                                                     81.5%
Design and Build Quality                                       17/20
Key Features                                                     17/20
Ergonomics                                                       18/20
Performance
Autofocus                                                           4/5
Metering                                                             4/5
Noise Control                                                      4.5/5
Sharpness                                                           3.5/5
LCD/EVF                                                              3/5
Auto WB                                                            4.5/5
Sub-Total                                                          23.5/30
Value for Money                                                    6/10
PLUS
• 30x optical zoom
• Excellent noise control
• Impressive Auto White Balance performance
• Easy to use
• Wi-Fi and NFC enabled

MINUS
• Optical quality could have been better
• Slightly overpriced
VERDICT
The PowerShot SX710 HS is a capable compact providing 30x optical zoom. There are not many high end features to choose from. But if you want a high-performer basic camera with some manual control and good zoom range, the SX710 HS will serve you well.
Sujith Gopinath