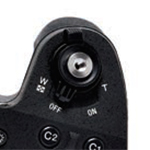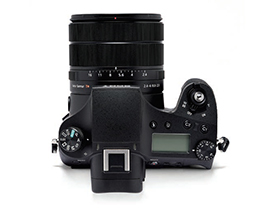 Ergonomics
The Sony RX10 III is quite comfortable to operate, though it is slightly on the heavier and bulkier side. The camera has a textured rubber grip, which is non-slippery. The thumb rest protrudes a bit so that even the back of your hand remains in place all the time. The lens has a single protruding barrel. The camera offers both a zoom lever (part of the shutter release unit) as well as a zoom ring on the lens. It has a Focus Hold button, which locks the focus when pressed and also an Aperture click (On/Off ) button. This button is useful to eliminate the sound of aperture (diaphragm) operation during movie recording. Images in the LCD appeared crisp. The electronic viewfinder offers excellent sharpness and is as clear as an optical viewfinder. The camera has a threaded shutter release button, similar to old film SLRs. The menu is quite exhaustive, but unfortunately, Sony does not supply a detailed user manual in print. A link is mentioned on the basic manual, but you have to download this manual and print it out to understand all the functions of this camera.
Performance
The RX10 III is arguably one of the best professional quality compact cameras available in the market. Autofocus was fast and the camera did not have any problem focussing in low light. Images were tack sharp throughout the zoom range. Let me emphasise that the images showed excellent sharpness even at 600mm, which speaks volumes on the quality of optics. We did not observe any darkening of corners even at the wide-angle end with the lens wide open. Mild flare was seen, but chromatic aberration was absent. The lens produces slight barrel distortion till 35mm (100mm equivalent).
All metering modes worked perfectly. The camera reproduced colours true to the original. In Auto White Balance, the images were devoid of any cast. The native print size is 12.16 x 18.24 inches at 300 ppi. The RX10 III controlled noise very well. At 25 percent screen size, images were practically noise-free up to ISO 1600 and were usable till ISO 6400. Enlarged to 50 percent, a tinge of noise appeared from ISO 400 onwards and the images were usable up to ISO 3200. At 100 percent view, the images were reasonably noise-free till ISO 100 and could be used up to ISO 800. Videos were seamless, though we were unable to shoot 4K videos for the lack of an SDXC Class 10 card.
Value for Money
The Sony Rx10 III retails at an MRP of Rs.114,990. This is quite high for a compact camera even though it produces excellent images. |SP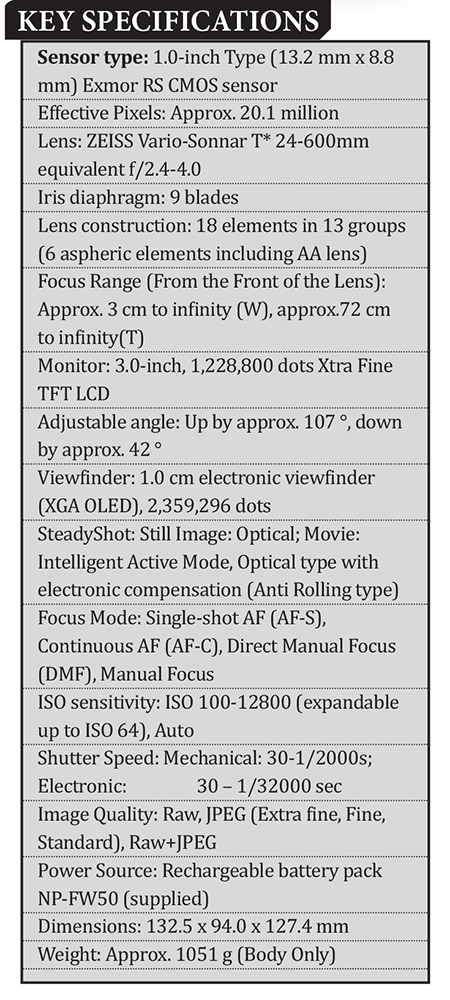 FINAL SCORE                                                                         81%
Design and Build Quality                                                         14/15
Key Features                                                                            13/15
Ergonomics                                                                               13/15
Performance
Autofocus                                                                                 3.5/5
Metering                                                                                     4/5
Noise Control                                                                              4/5
Sharpness                                                                                 4.5/5
Darkening of corners                                                                 4/5
Flare and CA                                                                              4/5
Distortion                                                                                 3.5/5
LCD/EVF                                                                                     4/5
Auto WB                                                                                    4.5/5
Sub-Total                                                                           36/45
Value for Money                                                                5/10
PLUS
• Excellent image reproduction
• Superior sharpness
• Solid build quality
• Versatile  performance
• 4K Video
MINUS
• Maximum aperture drops rapidly
• Prohibitively Expensive
• No Detailed Printed Manual
• Poor Battery Life
VERDICT
The Sony RX10 III is quite mature as a professional quality super-zoom compact camera, and can replace your amateur D-SLR and long zoom lenses if you are not into detailed professional work or contributing to stock. The price could be a deterrent for some, but talk about replacing all your bulky equipment, and it could be worth paying if you get a good bargain from the dealers. However, one disappointing fact is that the maximum aperture drops to f/3.2 at around 50mm equivalent focal length.
Reviewed by- Sujith Gopinath