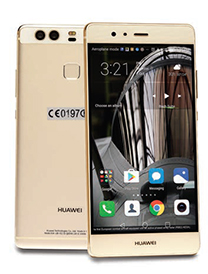 Smartphones are becoming more intelligent and are fast transforming into serious imaging devices, some times even bettering compact cameras. In fact, we see lot of technological innovation in the smartphone space with every brand trying to outsmart the other. Till about a year ago, serious smartphone imaging was confined, or rather, perceived to be confined to Apple and Samsung. Now more companies are in the fray and Huawei is one company that does not seem to be in any mood to back off. The new Huawei P9 represents a bold stride in smartphone photography with a dual lens system that has been designed in partnership with the legendary Leica optics.
Design and Build Quality
The P9 is carved out of aerospace-class unibody aluminium with diamond cut edges to give a design complete with visual elegance. A 2.5D glass (slightly curved edges) enhances the visual appeal. The back surface, though gives a 'hollow' feel, which takes away the toughness that the front surface communicates very well. The P9 has a 5.2-inch Full HD (1920 x 1080) display that provides high colour saturation and contrast. The highlight of the camera are the two rear camera lenses and the Leica brand name etched within a glass window. The square fingerprint sensor resides below the camera unit. The back surface has a matte texture. The USB Type-C port and the 3.5mm audio jack sit at the bottom surface along with the microphone and speaker holes. The volume rocker button and power button are on the right side.
Key Features
The Huawei P9 is globally available in three variants including two Dual SIM models. However, the Indian edition is a Single SIM model with 32GB ROM and 3GB RAM, officially known as EVA-L 09. At the heart of the device is a 64-bit HiSilicon Kirin 955 Octa-core processor consisting of four 2.5 GHz Cortex A72 and four 1.8 GHz Cortex A53 cores. The P9 is based on Android 6.0 Marshmallow, customised with an EMUI 4.1 skin. The screen is capable of displaying 16.7 million colours.
The P9 uses a dual lens system for its 12 megapixel main camera. Both the lenses have similar specifications including a maximum aperture of f/2.2, but the underlying Back-side Illuminated CMOS sensors execute distinct functions. One is overlaid with RGB filters to capture all colour information from the image, while the second sensor has a monochrome filter that allows it to record detailed information regarding the amount of light falling at every point. This feeds the Image Signal Processor (ISP) with more information than in a traditional system to process the signals more efficiently. Combined with a separate Digital Signal Processor (DSP), the camera delivers better dynamic range and detail along with excellent monochrome images. A dual tone flash effectively complements the camera. The autofocus system uses a combination of Laser AF and Phase Detection AF for better accuracy and speed. The main camera offers features such as Monochrome, Beauty, Video, HDR, Beauty Video, Panorama, Night Shot, Light Painting, Time-Lapse, Slow-Motion, Watermark, Audio Note and Document Scan. In Beauty mode, you can turn on the Perfect Selfie mode for face sculpting and fine-tuning options. The camera also has a Depth-of Field mode, which lets you capture an image with shallow Depth of Field. This is helpful when shooting portraits and macro. Another important feature is the ability to refocus a captured image by touch control.
The PRO mode lets you control parameters such as Metering mode, ISO sensitivity, Shutter speed, Exposure Value (EV), Autofocus mode and White Balance. Shutter speeds range from 30 to 1/4000 sec, while sensitivity can be set from ISO 50 to 3200. Metering modes include Evaluative, Centre weighted and Spot, while focus modes available are AFContinuous, AFSingle and Manual Focus. The front camera is an 8 megapixel model with an f/2.4 lens. An interesting feature is that the phone reminds you to look into a marked area near the camera while capturing a selfie for eyecontact. Videos can be recorded up to Full HD (1080p) resolution at 60 fps.
The phone features a virtual triple antenna, which ensures maximum signal reception without worrying about your hand obstructing the antenna while attending a call. The device also features Wi-Fi 2.0, which automatically connects to the strongest available Wi-Fi network by ranking Wi-Fi hotspots automatically.  An enhanced fingerprint sensor provides better security according to the company.
The Huawei P9 supports all 4G LTE, 3G and 2G bands operating in India. The device supports NFC and positioning systems such as GPS, GLONASS and BDS. As mentioned earlier, the P9 uses a USB Type C (High Speed USB) interface. The storage can be increased with a Micro SD memory card of up to 128GB capacity. It uses a 3000mAh nonremovable battery. The device measures 145 x 70.9 x 6.95 mm (H x W x D) and weighs 144g.