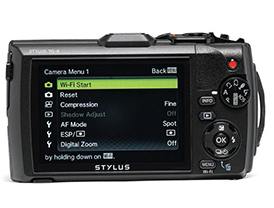 Ergonomics
The Olympus TG-4 is quite comfortable to handle. It has a textured grip (presumably made of thermoplastics). The menu is user-friendly and the buttons are responsive. The camera has a dedicated video recording button. The camera has a removable ring in front of the lens, which can be removed to accommodate a 40.5mm (dia) filter. The lens mount is plastic, but we cannot complain since plastics (or carbon composites) are replacing metals at many places because of their high tensile strength and resistance to corrosion.
A118perture range of the camera is too narrow that it limits your flexibility with metering
Performance
The TG-4 performed well in our tests. AF was fast and precise, and locked on to the subjects even in low light. Out-of-the-box JPEGs were sharp. We observed a tinge of darkening towards one side when photographing an evenly illuminated surface at the wide-angle end, with lens wide open. The lens produced heavy flare and magenta fringing in strong againstthe- light shots at the wide-angle end at wide-open aperture. The metering modes worked well, but the aperture range is too narrow that it limits your flexibility with metering. The lens did not exhibit any perceptible distortion at any focal length. Videos were smooth and did not record any operating sound.
Auto White Balance performed reasonably well. The tones were perfect in daylight, and though it produced slight casts under other light sources, these were easily removable during post-processing. Native image size was 15.36 x 10.24 inches at 300 ppi. At 25 percent view, images were free of noise till ISO 800. Though ISO 3200 and 6400 were noisy, the images were usable up to ISO 3200.
As with all Tough series cameras, the TG-4 also went through our immersion test. We kept the camera in a tank of about 5ft water for nearly 10 minutes in video recording mode, and did not show any sign of water ingress. It also withstood a drop from about five feet on to a hard surface, though we did not attempt to push the device to its limits.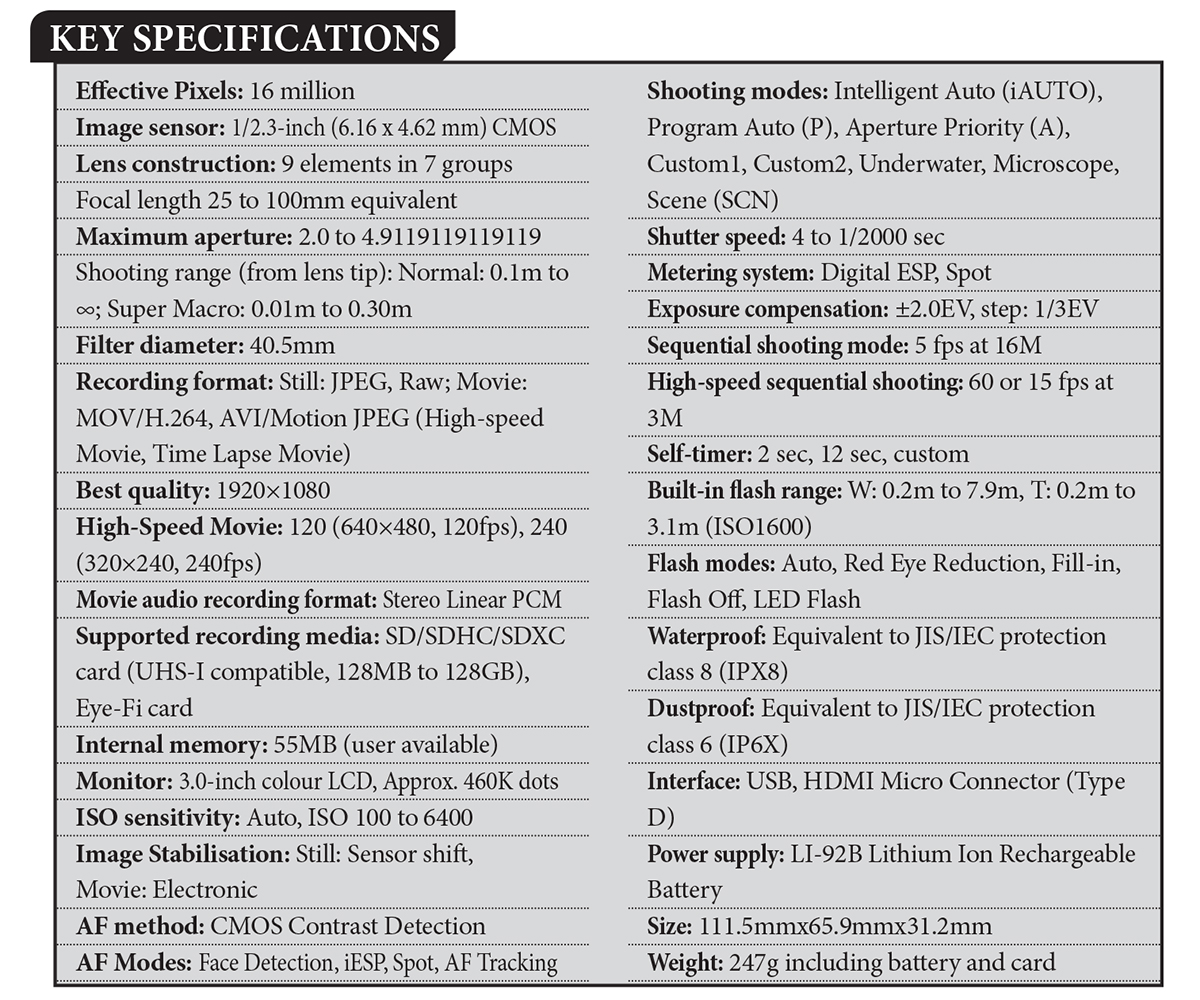 Value for Money
The TG-4 retails at an MRP of Rs.26,990. Being a true underwater and 'tough' camera, we feel this price is reasonable for the TG-4. |SP
 FINAL SCORE                                            84%
Design and Build Quality                               18/20
Key Features                                               16/20
Ergonomics                                                 17/20
Performance
Autofocus                                                       5/5
Metering                                                        4/5
Noise Control                                                  4/5
Sharpness                                                     5/5
LCD/EVF                                                      4/5
Auto WB                                                      3/5
Sub-Total                                                   25/30
Value for Money                                        8/10
PLUS
• Water and dust proof
• Raw format
• Superior build quality
• Fast autofocus
• Fairly good noise control
• Above average performance

MINUS
• Heavy flare in strong daylight
VERDICT
As mentioned before, the Olympus TG-4 is a minor improvement to its popular TG-3. The camera adds Raw format and a few shooting modes to the TG-3's features. With a reasonably good performance, this weather-resistant model is certainly a great addition for your travel backpack. More importantly, it saves you the additional cost of an underwater housing.
Sujith Gopinath