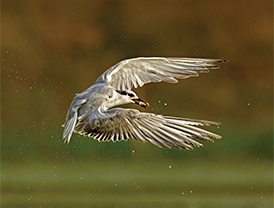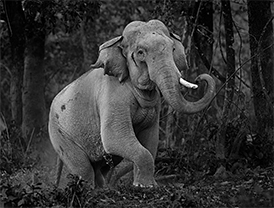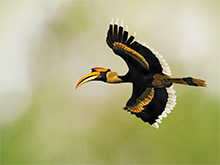 Which are your favorite animal/s to photograph and do you have any specific strategies for photographing them?
Nature and wildlife itself is amazing. I can spend the whole day, just watching an ant colony without actually clicking any pictures. So there is no specific animal for me. I love to photograph them all; birds, mammals and insects as well, though Macro photography is a bit more closer to my heart. It gives immense pleasure to watch these tiny creatures in a large frame which is otherwise not visible to the naked eye.
What according to you, makes a good picture stand out from the average?
A great photograph speaks to us about the subject or gives us an insight into its life. A good picture makes us curious and makes us want to know more. But for me,
• A great image should represent the wildlife in their natural habitat
• The image should have a story or a natural history moment
• The subjects should not show any concern or fear in the image
• The presentation of the image should reflect the unique style of the photographer
Above all the image that can contribute something towards conservation of Nature and Wildlife is a good picture for me.
Whose work has influenced you the most?
There are so many great photographers whose work I follow regularly. Personally, I have been extremely influenced by the work of Dr. Caesar Sengupta. I have learnt a lot from him. It's not only about photography, it is the dedication towards conservation of wildlife through his photographic community which is very admirable.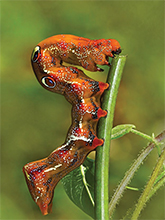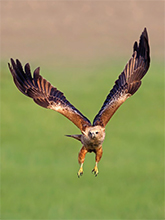 What kind of tools do you use, if any, for post-processing? Could you explain your workflow?
I edit my images using Adobe Photoshop. First, I adj ust the histogram and lens correction in Camera Raw and then in Photoshop I use tools like cropping, shadow/highlight adjustment, some dogging-burning (if required), colour adjustment and lastly I use the sharpening tool, as required.
Any words of advice or encouragement to someone starting out with or wanting to improve their wildlife photography skills?
There are two important aspects in wildlife photography. First, the technical part, which is understanding the camera. In the wild, things happen within a blink of an eye. Hence the familiar you are with your gear, the lesser time you will require to adjust the settings. This will provide you with better opportunities to capture the desired moment. I also believe that high-end gear definitely have some advantages. But before upgrading, one must know the limitations of their existing gear, only then can one take maximum advantage of their highend gear. Second, but most important part, is understanding the subject. It is very important to understand the animal behavior and to know how to take good images without disturbing the subject. Remember, safety of the animal is much more important than your picture. One can start wildlife photography close to his house, or the nature around. There is no need to go for expensive safaris. Play around with your gear watch the behavior of the animals or birds and then if you feel a real passion for the genre, only then you can try harder and become a wildlife photographer. |SP